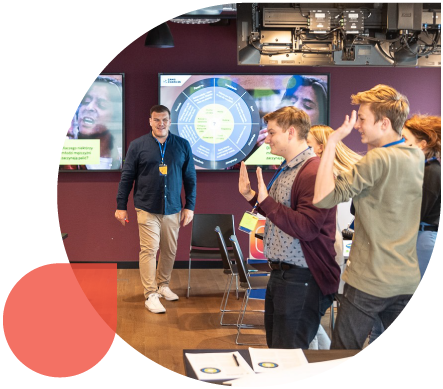 Alternate Narratives for Development
'If you want to throw away old paradigms it is an absolute necessity to present a convincing alternative.' – George Lakoff
Fake news, disinformation, alternative facts, and divisive communication strategies all erode trust. One of the most serious issues is that people have limited access to accurate and truthful information from trustworthy sources, especially in a world where social media sites are a major source of both information and misinformation. In addition, state and non-state actors are using the democratised information ecosystem to spread polarising and radical messages and propaganda. With the advent of social media and big data, it appears that these narratives are determining which visions of the future win out and capture the public imagination. In the anarchy of online information, getting informed means navigating in a world without a map or a compass.
Journalists and civil society communicators are at the forefront of the fight to distinguish between the truth and false and harmful stories and narratives. They are the ones who, armed with facts, debunk false stories while presenting evidence under time and resource constraints. However, in a battle of hearts and minds, simply stating facts is insufficient.
In this course, we will look at how disinformation is spread, the various techniques used, and the impact on modern democracies. We arm you with the knowledge you need to combat disinformation by understanding how and why it is spread. Using this new found knowledge, we empower you to re-establish trust with your audience and equip you to counter radicalisation and disinformation.
Benefits:
Be able to target specific beliefs and behaviors associated with their current narratives.
Learn about empathy mapping and how it can be used to change beliefs and behaviors.
Understand how to use persuasion to create your own compelling stories.
Identify dis, mis, and malinformation and remedies for each.
Be able to identify which counter strategy is best to use when.
Understand the push and pull factors that drive extremist thinking.
Be skilled in the use of social listening, fact checking, and verification technology.
Be aware of the various risks of disinformation in journalism.
Learn how information disorder works through case studies.
Make a strong counter-narrative to challenge pre-existing assumptions.
This course is perfect for:
NGOs and Civil Society Groups who are tackling targeted disinformation, misinformation or malinformation and would like to present alternative narratives.
Media Professionals who are facing mis and disinformation and want to challenge these narratives constructively.
Foundations and Corporate Organisations that would like to produce counter narratives and alternate narratives to disiformation.
Outline:
This training is customised to meet your specific needs as well as the needs of your organisation.  During the completion of these modules you will craft a powerful alternate narrative that is focused on your specific topic.
Module 1: Audience hyper-segmentation and understanding existing narratives
Module 2: Persuasive communication.
Module 3: The building blocks of story.
Module 4: Understanding disinformation and the media
Module 5: Fighting the information epidemic
Module 6: Prototyping